Fire Escapes; Balustrades; Balcony; Railings
Some clients have had fire escapes built that actually act as a main access to their office and therefore it is important that the staircase is finished professionally and is in keeping with the look of the building.
Handrails / Railings
There are a number of design options for the handrailing including stainless steel handrailing which can give what is essentially an industrial fire escape, a more polished finish. There are other options for your handrailing including, tubular, PVC covered and flat handrailing.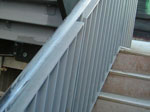 Balustrades
Available in many options and designs, the fire escapes are galvanised and zinc coated and can then be painted to a colour of your choice. To discuss any requirements you may have for a fire escape, in more detail please contact us.
Balconies
Our balconies are sure to add a new aspect of refinement to your home, office or building. Whether you are planning to create a gallery, an external seating area or a simple walkway, balconies can be constructed to any size required, with matching filigree cast plates. Frames are normally in steel but can also be made of aluminium if preferred.